I love introducing you to great blogs that I've discovered, and today, I am excited for you to meet Stasia! When it comes to living frugally, she speaks my language; and I know that so many of you are going to enjoy getting to know her and her space! - Elizabeth
Stasia here, from Our Life on a Budget!
A little about me? First and foremost- saved by grace!
I am a wife, mother, teacher, blogger, cloth diaper enthusiast, runner, and person who loves to eat (had to throw that one in there).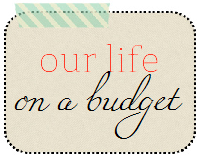 As the name of the blog infers, I am pretty frugal and the blog started as a journey to document that. Then it grew to cover more- everything from family, to faith, to how to have a garage sale!
Some of Stasia's Favorite Posts:
Also you can follow me at…
Blogger
Instagram
Pinterest
Facebook
Twitter
If you would like to collaborate to feature your blog, Etsy shop, small business, etc. on "All Kinds of Things", I would love to hear from you!
I am currently running a $15 advertising special that will provide you exposure not only on my blog space, but also on my Facebook, Pinterest, and Instagram feed.
allkindsofthingsblog (at) gmail (dot) com.
Fellow Bloggers, plan ahead for our future linkups! We would love to have you join us~